Corsair 17F1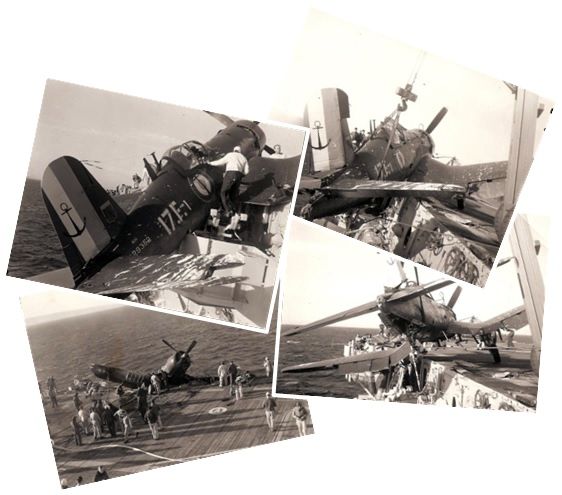 © Michel Moron
C'est à l'occasion d'une sortie avions avec l'aéroclub d'Ancenis (le tour de la Bretagne le 3 août 2014) qu'en discutant avec Michel Moron, celui-ci me confia 4 photos d'un Corsair AU-1 de la 17e Flottille de l'Aeronavale française mal embraqué sur le pont du porte-avion La Fayette (probablement lors de la guerre d'Algérie). Ces photos lui avaient été transmises par son père qui avait servi sur ce porte-avion. Mon sang ne fit qu'un tour et je proposai alors à Michel de mettre ses photos sur mon site. Toute information complémentaire sur cet incident spectaculaire sera la bienvenue.
During an air raid with the Ancenis airclub (a complete tour of Brittany on August 3rd, 2014), I had the opportunity to discuss with Michel Moron and this one gave me 4 pictures of a damaged Corsair AU-1 of the Flotille 17 F of french Aeronavale on the bridge of the La Fayette aircraft-carrier (probably during the war of Algeria). These pictures had been given to him by his father who served on this aircraft-carrier. Immediately interested, I proposed to Michel to exhibit these pictures on my website. Any additional information on this spectacular accident are friendly welcome.
Benoit Paquet - b.paquet@orange.fr
Je remercie Monsieur Feuilloy, de l'A.R.D.H.A.N., pour m'avoir fourni les informations sur cet incident : Corsair AU-1 n° 129352 du SM (Second Maitre) Josa après rupture de crosse d'appontage sur le La Fayette le 18 janvier 1962.
I thank Mister Feuilloy, of the A.R.D.H.A.N., who provided me further information on this incident : Corsair AU-1 n° 129352 of PO (Petty Officer) Josa after breakage of tail hook on the La Fayette on January 18th, 1962.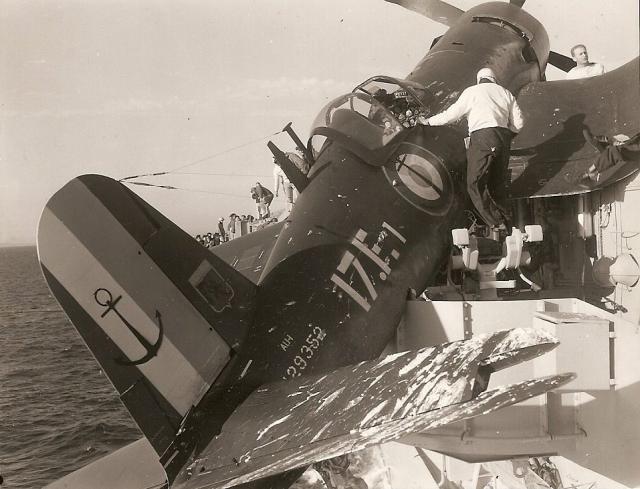 Chance Vought Corsair AU-1 - Flotille 17F
Porte-avions La Fayette - La Fayette aircraft-carrier
© Michel Moron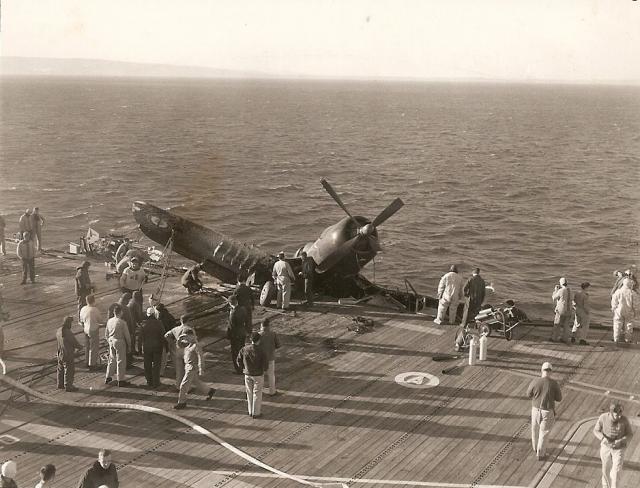 Chance Vought Corsair AU-1 - Flotille 17F
Porte-avions La Fayette - La Fayette aircraft-carrier
© Michel Moron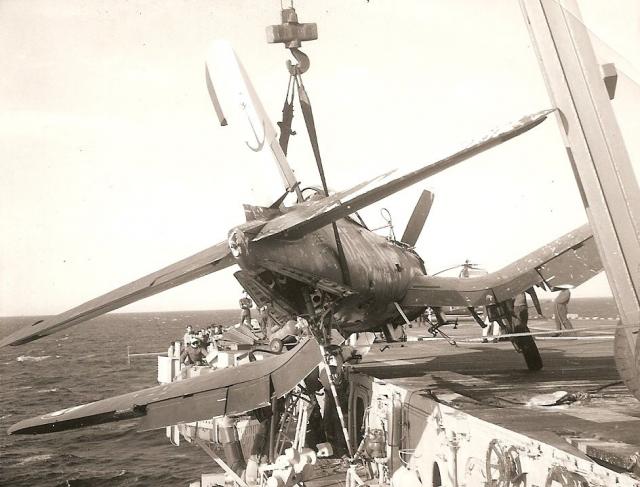 Chance Vought Corsair AU-1 - Flotille 17F
Porte-avions La Fayette - La Fayette aircraft-carrier
© Michel Moron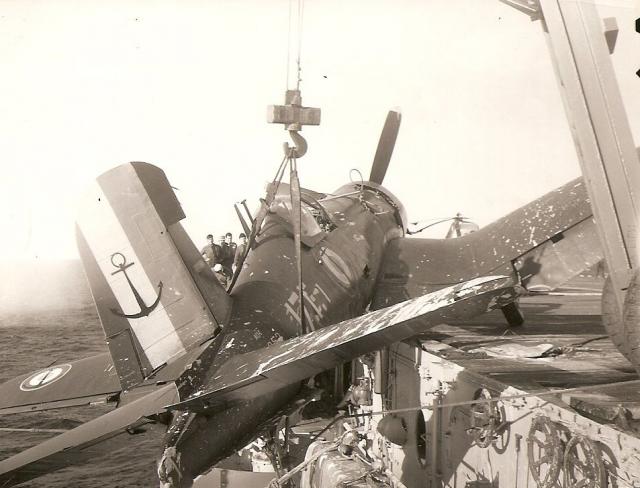 Chance Vought Corsair AU-1 - Flotille 17F
Porte-avions La Fayette - La Fayette aircraft-carrier
© Michel Moron