"Commandant Teste"
C'est en "chinant" dans une brocante bretonne, près de Douarnenez, pendant l'été 2017, que je suis tombé sur cette carte postale représentant un Cams 55 devant le porte-hydravions "Commandant-Teste". Cette peinture est signée "Bernard Lachèvre", nommé peintre officiel de la marine en 1922. Il semble que cette carte postale ait été imprimée en 1940 mais je n'en suis pas sûr.
While "hunting" in an antiques shop in Britanny, near Douarnenez, during summer, 2017, I found this postcard representing a Cams 55 in front of the seaplane-carrier "Commandant-Teste". This artwork is signed "Bernard Lachèvre", appointed Marine's official painter in 1922. It seems that this postcard was printed in 1940 but I am not sure.

Si quelqu'un peut me confirmer la date d'impression, ou m'en dire plus sur cette carte postale, merci de me contacter par courrier électronique : b.paquet@orange.fr
I thank anybody to confirm me the date of printing, or to tell me more about this postcard, by contacting me by e-mail : b.paquet@orange.fr

Inscrit sur le recto / printed on the front : "Le prestige des ailes et le charme de l'eau".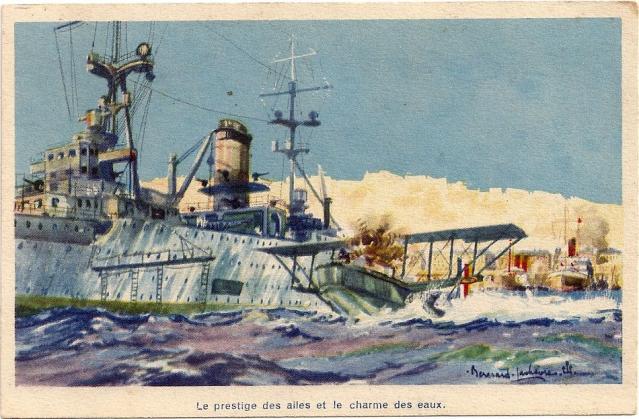 © Famille PAQUET - PAQUET family
Inscrit sur le verso / printed on the back : "6. - Le transport d'avions "Commandant-Teste" à Alger"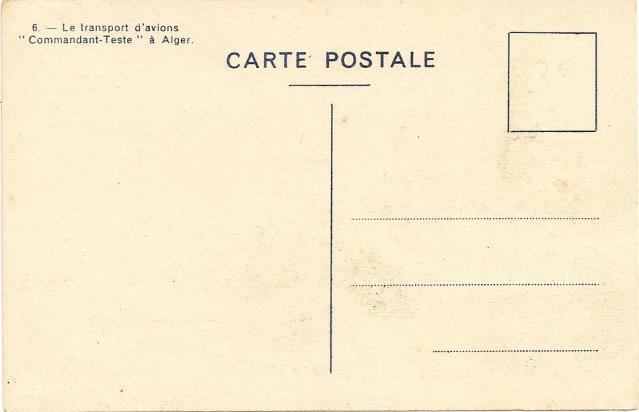 © Famille PAQUET - PAQUET family
Le "Commandant-Teste" était un transport d'hydravions français, construit de 1927 à 1929 par les chantiers de la Gironde. Il participa aux principaux évènements de la Marine française, comme Mers el Kebir (dont il sort intact) et le sabordage de la flotte à Toulon. Renfloué par les Italiens en 1943, il est coulé par les américains en 1944. Il finira sa carrière comme entrepôt flottant et sera démoli en 1963. Son nom rend hommage à Paul Teste, promoteur de l'aviation navale. Il était équipé de 4 catapultes et 5 grues pour accueillir jusqu'à 26 hydravions Cams 55. En 1939, il accueillra 6 Loire 130 et 8 Latécoère 298.
The "Commandant-Teste" was a French seaplane-carrier, built from 1927 to 1929 by the shipyards of the Gironde. She participated in the main events of the French Marine, such as Mers-el-Kébir (by chance she escaped intact) and the scuttling of the fleet in Toulon. Refloated by the Italians in 1943, she was sunk by the Americans in 1944. She finished her career as a floating warehouse and was demolished in 1963. Her name paid tribute to Paul Teste, promoter of the naval aviation. She was equipped with 4 catapults and 5 cranes to welcome up to 26 seaplanes Cams 55. In 1939, she welcomed 6 Loire 130 and 8 Latécoère 298.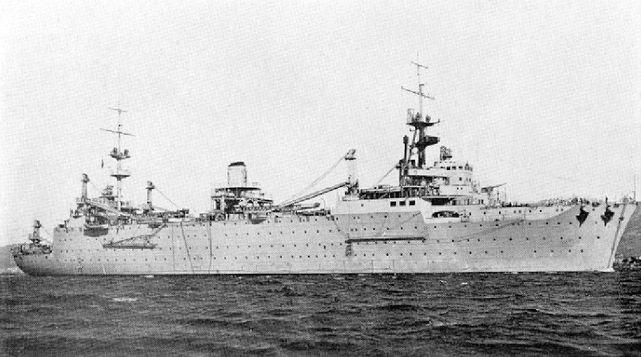 Commandant-Teste
Photo : Domaine public - Public domain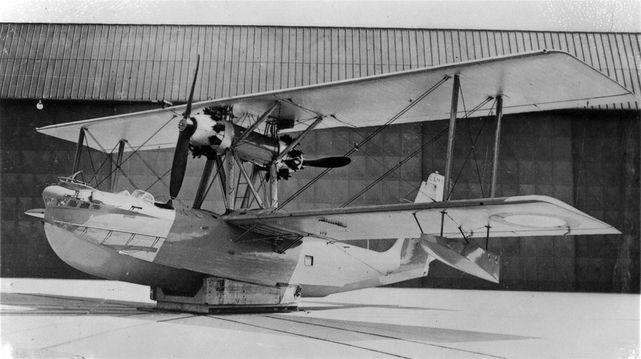 Cams 55
Photo : auteur inconnu - author unknown